-------♦------» Last Update Update 2020 «-------♦-------
---
imagine updating 6 times a year pff not me
Anyway, last update 2020, so it's time for 👏 year 👏 review
---
---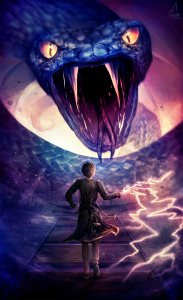 » Cale vs The Electric Eel (TCF Fanart)
» Judgement (ORV Fanart)
» Sleepover (ORV Fanart/Secret Santa Gift)
Upper pic is actually not ORV fanart for once, but instead TCF (Trash of the Count's Family), another great webnovel with nice world building, dragons, magic, war criminals, found family, cunning bastard protagonists and lots of bashing the God of Death. A regular daily routine.
Funfact:
I kinda went of the rails with that one hmm. Might redraw that concept one day cause I wanna draw that baby dragon rly bad.
Concerning the bottom pics... No thoughts, head empty, only ORV
Uni hit hard and all I managed to draw during my free time was ORV fanart because the webtoon/webnovel is great and I will shove it down yall's throat and yell about it until my funeral
Both of these pics took my entire life span and god forbid I actually had to draw f a c e s. Disgusting.
I'm still not very practised in drawing people at all, but because the ORV train is still going and I refuse to get off, I forced myself to live with it. Only thing yall are allowed to zoom in on are the wings and maybe the blanket idk u choose.
and in case you're wondering why the pose in the left pic looks cursed, its because i never planned to have him hold a sword so the longer you look at it the worse it gets pls don't and move on thank you
---
»Art Summary 2020
---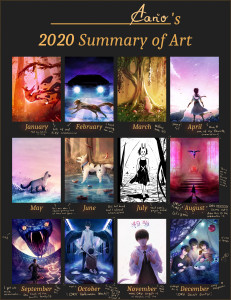 ---
To cut it short: first half of the year was drawing sad kitty commissions and the "I've been drawing this tree for 8 hours" experience. Then uni hit real hard midway through the year and the only thing I drew during July was a comic with some bootleg mysterious anime girl, which I have yet to post here whoopsie. Then August came and I refused to breathe for anything except ORV so that's it for 2020. Nothing else to see here.

Tbh I'm kinda surprised I actually drew people for once, especially since all I knew in January was drawing cat OCs. Guess that's the twist of 2020 for me. Dunno how the next year will go, except that's a lie cause I know uni projects are gonna escalate even more so the next update is probably gonna be in like 2080. Thanks for sticking around (does anyone read this??? idk) and following my updates, I rly appreciate it.
Also i just realized this post should be german but i left my german brain cells at home and tbh who has ever cared in this galery before (not me that's for sure) so yea post button goes brrr bye bye
---
---